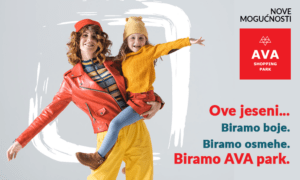 This fall we choose colors, we choose fun, and we choose new possibilities!
AVA park is the right location for easy, inspiring shopping.. for quality time spent with family or friends while exploring the fall collection in the stores of over 30 well-known brands.
LC Waikiki, Sinsay, Koton, OVS for fashion brand lovers… Adidas, Puma, Sport Vision for sports gear fans… KFC and Starbucks for a tasty break…
We are waiting for you!